The New England Chapter of Paralyzed Veterans of America's Federal Policy Priorities
The New England Chapter of Paralyzed Veterans of America is advocating for the following policy priorities during the first session of the 118th Congress.   These issues reflect areas of concern for PVA members, as both veterans with spinal cord injury  or disease and people with disabilities. We look forward to discussing these legislative priorities in greater detail with the New England Congressional Delegation in both D.C. and in their district offices.
Join the PVA Action Force today and support our efforts advocating for paralyzed veterans : https://pva.org/research-resources/pva-action-force/
---
PVA's Legislative Journey
From the bedside to the transition home and beyond, PVA fights for catastrophically disabled veterans, their families and caregivers at every twist and turn along their life journey. PVA advocates before Congress to ensure their claims are filed, their benefits are secured, and that they receive specialized, veteran-centric health care. PVA also works to ensure our members' voices are heard year-round and that they are given equitable access to meaningful careers, adaptive housing and automobile grants, accessible communities, assisted reproductive technologies, and more. And when a veteran has passed on, PVA works to ensure their families are taken care of.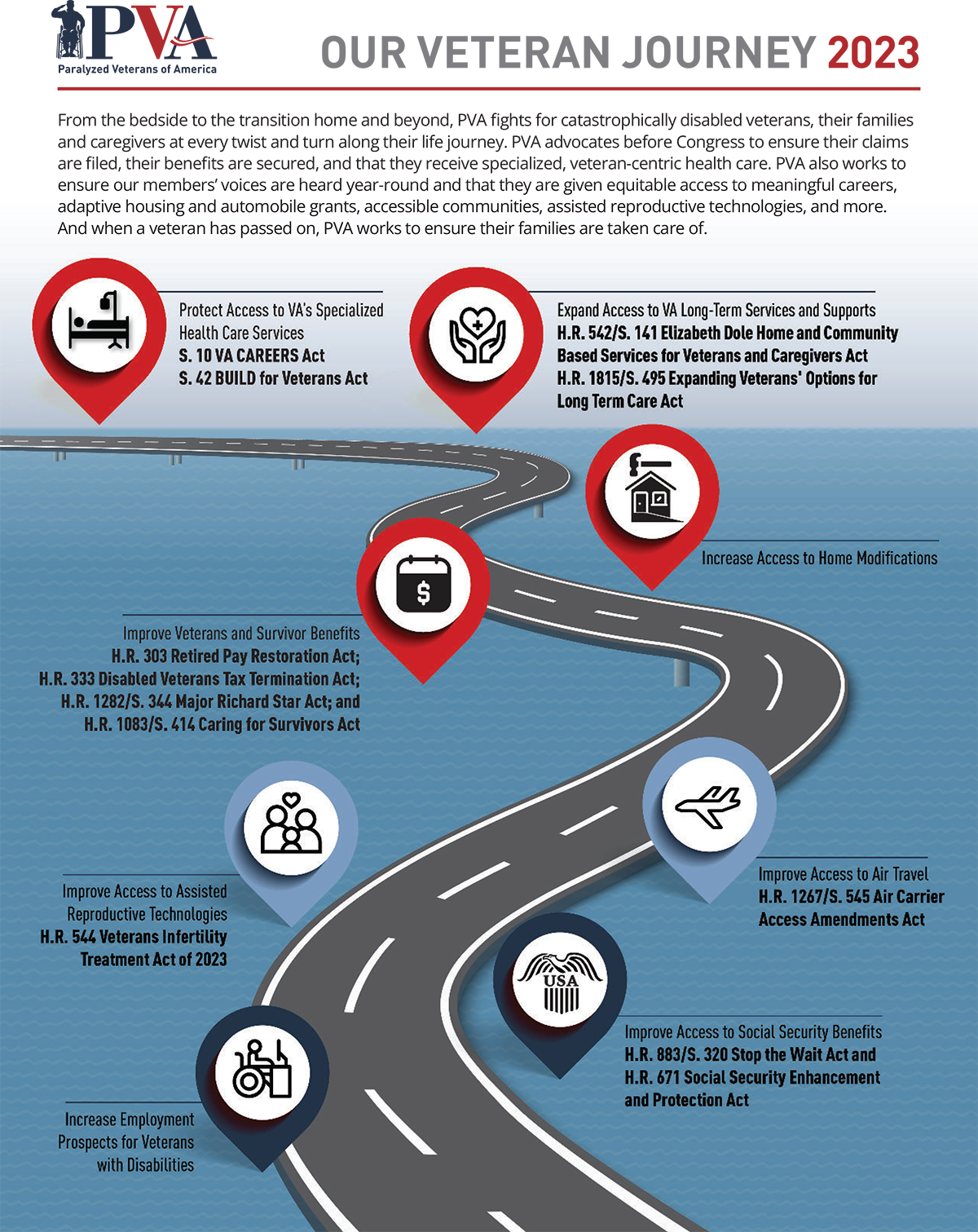 View a larger graphic of PVA's Legislative Journey
---
How to contact your representative in Washington:
Go to www.house.gov
Click on the link to find your Representative
Enter your zip code and click on Look Up
Your Representative's information will come up.
or
Go to www.senate.gov
Click on Senators
Click on choose state
Select your state
Both of your Senator' contact information will come up.